Finally I got it: a reworked/extended version of Veritas's GUI enhancement script.
I made several modifications to it to fit my needs better. Particular changes are listed in the file.
Downloads
Features
Installation
Things to come
Special thanks to
If you have comments, suggestions etc.
Downloads
Current version: 2.50
Here we go: gewarredux2.user.js

And a link to the posting on the GEwar scripts page.
Features
Add a PM link adjacent to all player names to go to the the Private Message page for that player. This appears on all pages where player names display.
Highlight the activity of yourself, alliance members, or any users you want on the Latest Activity page and the Occupied Cities page.
Extended Army management: task forces, simpler buying and moving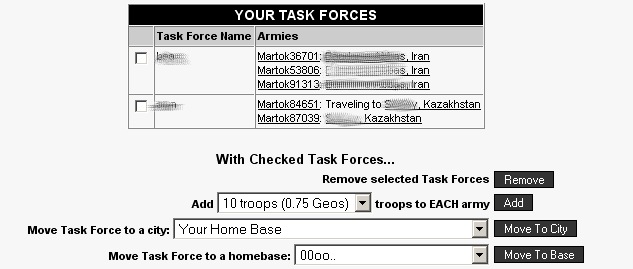 Simple access to financial stuff from any page Convert Ressources, withdraw money and make deposits from any page you browse.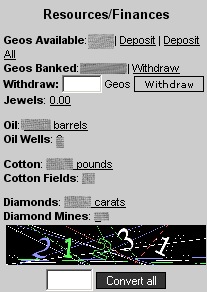 Search box for anything right above the cities list.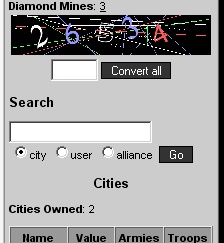 Bypass confirmation screens No need to press the back button any more!
Highly configurable You can configure anything using a high-level interface on Your Profile Page
Click to see large example
Online status Never seen this in any other script! Shows online status of any player (in fact, of players not hiding that) on any page. Special bulbs on Your Alliance Page


Note: you also see the PM buttons here.

Green (Undefeckable): Online
Red (Blitzkrieg): Offline
Blue (MillCity,W01F): Hidden

Integrated update checker
Add a forum link on the navigation bar Your alliance has a forum and you want a link to it on any GEwar page? Here you are: configurable link URL and text!
Last but not least (rather most important): the Index page. Loads of enhancements, just look for yourself

Installation
Get Firefox and GreaseMonkey
Open the file linked on the top or alternatively, download the file and Drag&Drop it on Firefox or open it via File->Open
Have fun!
Things to come
still a better online/offline recognition. But looks like crew won't help me out....
which members of your alliance are online on the main page
I don't have an idea what will be happening when the new version comes out, but this will be looked into as it is there.
Special thanks to
Veritas for GUI Enhancement and Army Movement Script
Apollosmith for GEWar User Interface Enhancement Tool
Thank you guys for this genius work!
fluteflute for testing and loads of feedback
Others for other things ;)
If you have comments, suggestions etc., simply contact me. I can't make individual changes (the rules prevent me to do so), but I try to put everything in the next version.
If you really like it, I'd appreciate a small Geo donation.